by Morten Ryhl-Svendsen

This is an example of the deteriorating effect of acetic acid vapors on calcareous objects. At the photograph two hens eggshells are shown. The one to the right has been stored in an inert environment, while the one to the left under laboratory conditions has been exposed to acetic acid vapors and high humidity for one month. The surface of the egg shell is heavily attacked by efflorecense. A few days after the photograph was taken, the shell crumbled to dust.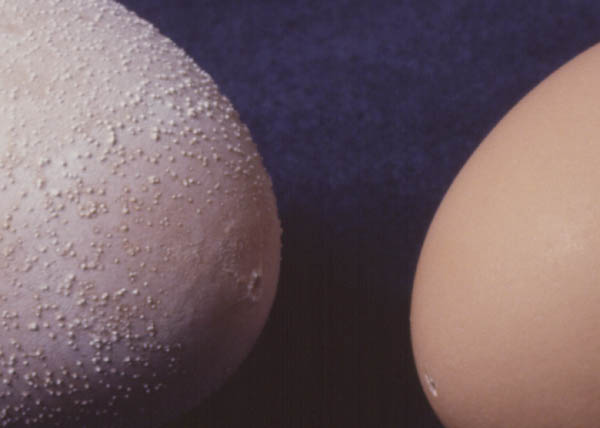 photo © Morten Ryhl-Svendsen, 2000
The salts which are formed in the calcium carbonate structure of the eggshell is calcium acetate. Also on Mollusca shells this type of efflorescence can be found, if the shells has been stored in an acid environment, e.g. in an oak case. The salts are then a mixture of hydrated calcium acetate salts and calcium acetate formate salts.
Below is shown two 150x Scanning Electron Microscope (SEM) images; the first one of the surface of the egg shell stored in an inert atmosphere (no salts), the following image is of the surface of the egg shell stored in an acetic acid containing atmosphere (lots of salt efflorescence).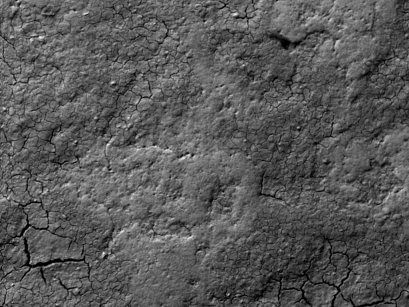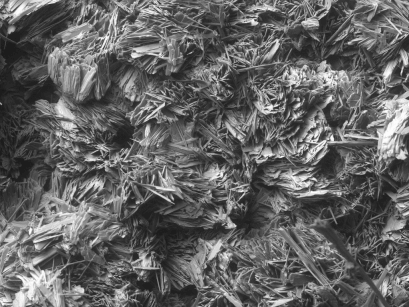 Thanks to Jettie van Lanschot, School of Conservation, Denmark, for help with SEM.
References:
N. Agnew (1981): "The Corrosion of Egg Shells by Acetic Acid Vapour". ICCM Bulletin, vol 7, no. 4, pp. 3-9.
L.T. Gibson, B.G. Cooksey, D. Littlejohn & N.H. Tennent (1997): "Investigation of the composition of a unique efflorescence on calcareous museum artifacts". Analytica Chimica Acta, vol. 337. Elsevier, The Netherlands, ISSN 0003-2670, pp. 253-264.
F. R. Nicholls (1934): "Deterioration of Shells When Stored in Oak Cabinets". J. Soc. Chemistry and Industry, vol. 53, Dec. 21st, pp. 1077-1078.
S.Y. Shelton (1996): "The Shell Game: Mollusks Shell Deterioration in Collections and its Prevention". The Festivus, Vol. XXVIII(7). pp. 74-80. .
N.H. Tennent and T. Baird (1985): "The Deterioration of Mollusca Collections: Identification of Shell Efflorescence". Studies in Conservation, 30, pp. 73-85.