The corrosion of lead in a showcase made out of wood or wooden boards is probably on of the most "classic" examples of indoor air pollution generated damage in museums.

As wood emits a variety of compounds, among these carboxylic acids and aldehydes, the presence of large amounts of wood close to lead artifacts is a potential danger. Compounds like acetic and formic acid will corrode lead, resulting in a white powdery corrosion crust and possible a complete defragmentation of the object. The corrosion products can be lead acetate (caused by acetic acid) and lead formate (from formic acid). Furthermore, acetic acid may catalyse an oxidation of lead, whereafter an reaction between the lead and CO2 in the air produces basic lead carbonate.
Fig. 1:
Corroded lead coins. The damage arise from storage in a wood board cabinet. The coins are lead kas from the former Danish colony Tranquebar (India).

photo © National Museum of Denmark
Also formaldehyde is given of from wood, although in much smaller amounts than the acids, but glue from wooden boards may contribute with high amounts. While probably not a primary corrosion agent in it selves, formaldehyde will oxidize to formic acid, and then engage in corrosion.
Also other metals will be corroded in an atmosphere containing acetic and formic acid, e.g. copper, or zinc.
---
Picture examples:
Fig. 2: Medieval pilgrim amulet made of lead. On display in a show case with a MDF board bottom and backing. Compared with the drawing to the left in the show case, showing the outline of the amulet when it was inserted to the case, it can be seen how it since then has corrodes away in the middle. The amulet is from a Danish museum.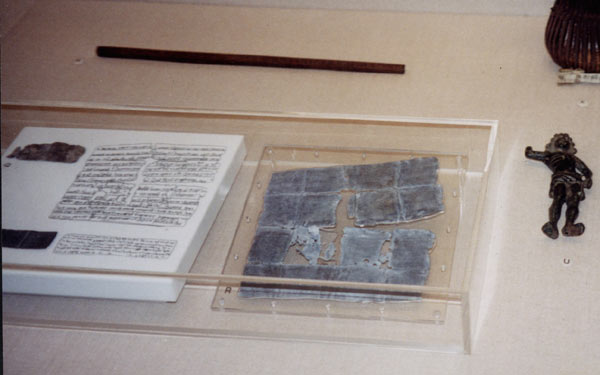 photo © Morten Ryhl-Svendsen, 1999


---
Fig. 3: Lead bullets on an ammunition sample board, originally for educational purposes in the army. The bullets are covered with white corrosion. This was identified by FTIR as being a mixture of basic lead carbonate and lead formate. The cause of this corrosion could be the low quality card board on which the samples are mounted, or storage in wood boxes. From a Danish museum.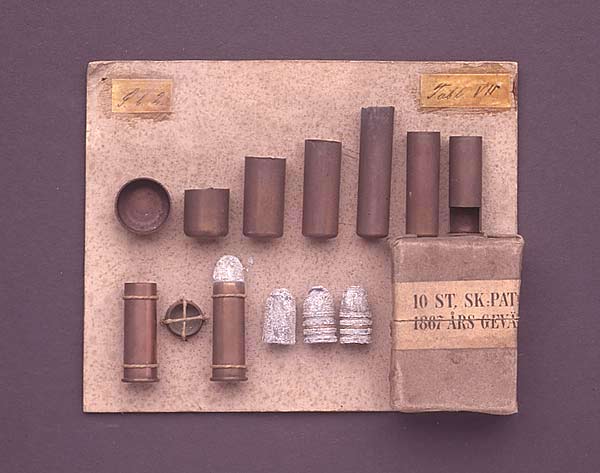 photo © Roberto Fortuna, 2000


---
Fig. 4: Toy ship made of lead or a lead alloy, in a large show case together with lead soldiers and other toys. Except for the front glass all surfaces in the case was wood or wooden boards. Part of the ship is covered with white corrosion (see enlargement). From a Danish museum.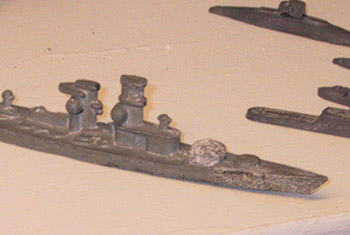 photo © Mikkel Scharff, 2000


---
Fig. 5: A lead paten or weight severely corroding, due to chipboard bottom of show case. From an Austrian museum.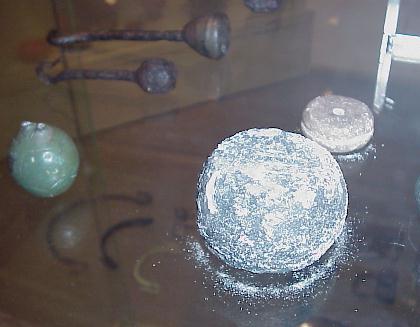 photo © Christoph Waller, 2001


---
Corrosion of lead objects has been described several times in literature, examples are:


Birthe Gottlieb, Tove Jakobsen & Jørgen Steen Jensen (1993): "Triste blymønter fra Trankebar". Ed. Olaf Olsen: Nationalmuseets Arbejdsmark 1993, Nationalmuseet & Poul Kristensens Forlag, Copenhagen, pp. 112-123. (In Danish, with English summary: "Suffering lead coins from Tranquebar").
Michele R. Raychaudhuri & Peter Brimblecombe (2000): "Formaldehyde oxidation and lead corrosion". Studies in Conservation, vol. 45, IIC, pp. 226-232.
Norman Tennent & Linda Cannon (1993): "The Corrosion of Lead Artifacts in Wooden Storage Cabinets". SSCR Journal, vol, 4, no. 1, The Scottish Society for Conservation & Restoration, Edinburg, pp. 8-11.
Jean Tétreault, Jane Sirois & Eugénie Stamatopoulou (1998): "Studies of Lead Corrosion in Acetic Acid Environments". Studies in Conservation, vol. 43, IIC, pp. 17-32.
V. Weierter & J. Tate (1993): "The corrosion of 'lead' communion tokens". Conservation Science in the U.K., Preprints of the Meeting held in Glasgow, May 1993. James & James, London, pp. 57-59.
---
Thanks to Mikkel Scharff, and Christoph Waller for providing photographs.